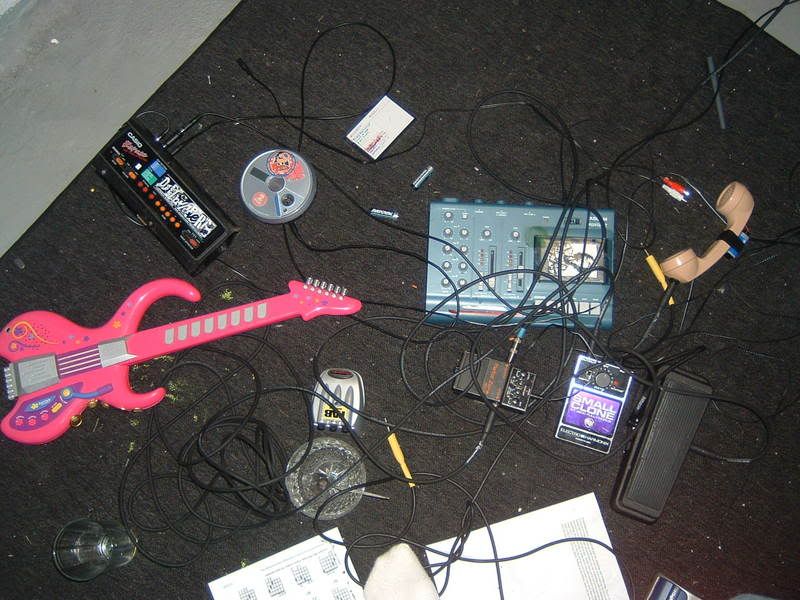 25:40 minute club banger from wstlnd wunder kid Knox Mitchell. When I was 15, I played Tecmo Bowl on NES and spent a lot of time "discovering myself" in the bathroom. Knox operates Green Records and Tapes, has performed & released noise jamz both collaborative & solo on other labels, circuit bends, runs a Andrew W.K. website, got dissed by ANDY ORTMANN at Lansing Fest and is probably well on his way to being Pamela Anderson's 4th husband by the time he turns 18. GOOD JOB KNOX KEEP IT UP!!!


"What once was, now has never been" begins as a
cumulus cloudland collage of rutilantly reverberating feedback cascading into warbly retarded
Casio Rapman noises and circuit-bent dementia. At around the eight minute is where shit start crescendoing and the psycho-drumming and distant unmic'd fireworks screaming vox beings. And while
"What once was, now has never been" is reminiscent in scope and structure of midwestern psyche-noise epics such as "Allegory of the Rave" by last years disbanded Twin Cities rabble rousers Teen Eagle or everybody's favorite electric-ethanol everymen Racc-oo-ooon and their stone cold tribal jammy jam "Call out your friends," you have to remember this kid is FUCKING 15 YRS OLD AND HE MADE THIS BY HIMSELF:


after listening to this particular recording you may become famished for fish & huevos tacos and CAMPRI apertifs but a quicktrip to the local Burger King for a Triple Whooper Combo would probably do the trick also.
"What once was, now has never been" is, if anything else, a worthwhile ipod diversion from Bush fatigue and the general Paxil malaise which seems to continue to beleaguer the average American plebe. And it sure as hell beats the
sensory deprivation of watching
America's Top Model marathons all afternoon.
(FREE HBO FOR EVERYBODY!!!)